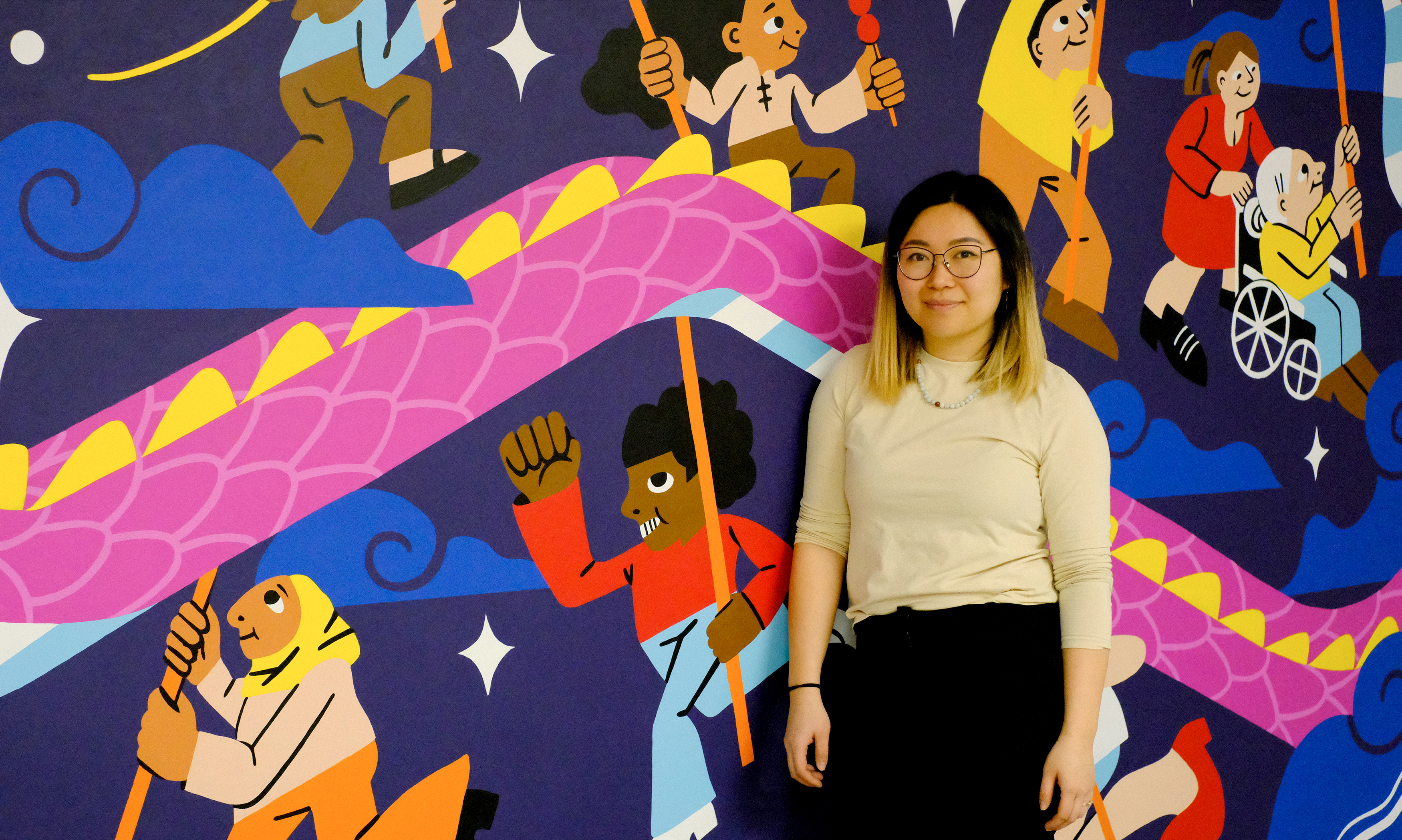 Photo: Karen Lui
Emily Chu is a Chinese illustrator and visual artist based on Treaty 6/Edmonton. Emily's work flows between commercial illustration, visual arts, community-centred arts engagement, and public art murals. Emily is passionate about storytelling and perserving heritage thorugh arts. Her murals can be found at the Edmonton Chinatown Multi-Cultural Centre, Alberta Craft Gallery & Shop, Loblaws Ice District, ATB Edmonton/Red Deer, and Millenium Place, to name a few.
Emily recently finished illustrating a youth non-fiction,
Get Out and Vote!
by Orca Books. She is currently working on a graphic novel about "the last house in Chinatown" funded by the Canada Council for the Arts.
Want to get in touch? Please email:
heyemilychu@gmail.com
---
CLIENT LIST
3.7% YEG
Alberta Craft
Alberta Teachers' Association Magazine
Alberta Union of Provincial Employees (AUPE)
Alberta Views Magazine
Alberta Worker's Health Centre
Apple Magazine
ATB Financial
Avenue Magazine Edmonton
Avenue Magazine Calgary
Calgary Immigration Women's Association (CIWA)
Campus Food Bank

Canada Council for the Arts (Governor General's Literary Awards)
Canadian Broadcasting Corporation (CBC)
Chatelaine
Chinese Benevolent Association
Chinatown Transformation Collaborative (CTC)
Citadel Theatre
The City of Edmonton
City of Beaumont (BSRC)
CJSR FM
CrossIron Mills Mall (PARK Experiences)
The Edmonton Arts Council
Edmonton Community Foundation (Legacy In Action)
Edmonton Community Development Company
Edify Magazine
Eighteen Bridges Literary Magzine
Fringe Theatre (Chinook Series)
Glass Buffalo Magazine (University of Alberta)
Glass Bookshop
GrainsWest Magazine
Hungry Zine
Kunitz Shoes
MacEwan University (MAVEN)
Maclean's Magazine
Multicultural Family Resource Societ (MRFS)
LEAP Magazine
Little Plant Shop
Loblaws
Logic & Lifestyle
Lo Know (Formerly Carto Media)
New Tribe Magazine
Orca Book Publishers
PARK Experiences
Readers Digest
Royal Bison Art & Craft Fair
Serious Labs Inc.
Servus Credit Union
Sexual Assault Centre of Edmonton (SACE)
smART (University of Calgary)
Social Enterprise Fund Publication
Spruce Avenue Community League
Stephen Magazine
Strahcona County (Millenium Place)
Telus Storyhive
The Sprawl
University of Alberta Sexual Assault Centre
Vox Media (Eater)
Where Magazine

AWARDS & GRANTS
2023 - 3x3 Illustration Annual No. 20 Professional Show - Honorable Mention
2023 - Edmonton Heritage Council, HCIP Community Impact Project Grant (Chinatown Maps)
2023 - Edmonton Arts Council, Major Project Grant (Chinatown Maps)
2022 - Canada Council for the Arts, Research + Creation Grant (Century Old Home)
2022 - 3x3 Illustration Annual No. 19 Professional Show Winner - Merit Award
2022 - Edmonton Arts Council, Major Project Grant
2021 - Edmonton Artists Trust Fund Award Recipient (EAC)
2021 - Yorath House Artist Residency (EAC/City of Edmonton)
2021 - 3x3 Illustration, Annual No. 18 Professional Show - Honorable Mention
2021 - EAC Individual Artist Grant (Artist Research)
2020 - Alberta Magazine Awards - Nomination
2020 - American Illustration 39 (Chosen - Work/Life Balance)
2020 - American Illustration 39 (Chosen - Envy)
2020 - Edmonton Arts Council Travel Grant
2019 - 3x3 Illustration Annual No. 16 Professional Show Winner - Merit Award
2019 - Edmonton Arts Council CIP Artist Grant
2018 - Edmonton Arts Council Travel Grant
2018 - Edmonton Arts Council Artist Project Grant
2018 - Capital Awards, Award of Excellence, Poster (EAC)
2016 - #YEGCanvas 2 Public Art Selections
Applied Arts Illustration Award (Young Blood)
smART Branding Contest Winner (University of Calgary)
Visual Arts Alberta Scholarship ChalkWalk Street Art - First Place (ACAD)




COMMUNITY
2018 - 2022 - The Royal Bison Art & Craft Fair Organizer
2020, 2021 - Alberta Book Publishing Awards Design (Jury)
2020 - StayhomeanddrawYEG
2019 - OnLocationYEG Public Sketchclub
2018 - GDC Portfolio Reviewer (Volunteer)
2018 - GDC Artist Mentorship / Sexual Assault Poster (Volunteer)
2016-2018 - Edmonton Digital Arts College, Illustration Instructor
2017 - Metro Education, Painting Instructor

MURALS
2023 - Forest Terrace Heights Community Centre (Upcoming)
2023 - BUMP Mural Festival, Calgary (Upcoming)
2023 - Alberta Craft Council, Edmonton (In Progress)
2023 - Millemium Place, Strathcona County
2022/2023 - Edmonton Chinatown Multicultural Centre
2022 - Loblaws, Ice District Edmonton
2022 - Spruce Avenue Community League, Edmonton
2021 - Beaumont Sports & Recreation Centre
2021 - ATB Mural Red Deer North Gaetz
2020 - ATB Mural Edmonton Corporate


BOOKS
Shape The Future, Orca Think Series (March 2023)
On-LocationYEG (2018)

PRESS
CBC Our Edmonton - Alberta Craft Mural (2023)
YEGPeople Interview (2022)
Keys 2 The City Interview (2022)
Edify Artists At Work (2022)
Global Edmonton Chinatown Greetings Feature (2021)
Edify Feature September Issue (2021)
City of Edmonton #RestlessYEG (2021)
EAC #Iamyegarts (2021)
Global News Edmonton Interview for #StayhomeanddrawYEG (2020)
CBC Radio EdmontonAM Interview (2020)
Global News Feature #OnLocationYEG (2019)
CBC RadioActive Interview #OnLocationYEG (2019)
Women in Canadian Design (WICD) Interview (2019)
Gifted Gift Catalog, by Edmonton Made (2018)
EAC Grant Recipient Interview (2018)
Avenue Magazine Edmonton Artist Interview (2018)
Where Magazine Featured Artist Spotlight (2017)
That's So Maven Podcast Interview (August, 2017)
Rosa & Lilium #GetReal Interview (March, 2017)
HYMN Graphic Novels / Kickstarter Funded (2015)

MARKETS
The Royal Bison Art & Craft Fair
Market Collective
Interstellar Rodeo
Curated. Market
Hand2Hand Market
Undercover Books
Whyte Avenue Art Walk
Calgary Comic Expo
Edmonton Comic Expo
OnTheSpot Pop-Ups (Latitide 53)
HardCopy Zine Fair
Calgary Stampede Western Showcase
Craft Banque (St. Albert Art Gallery)
Make It! Edmonton
124 Grand Market
The Witchery Market
Experience Jasper Avenue

STOCKISTS
Tix on the Square
Glass Bookshop
Royal Alberta Museum
Little Plant Shop
Majesty and Friends
Wildcrafted Merchantile (BC)
Gifted Catelog 2018 (Edmonton Made)
Gifted Catelog 2019 (Edmonton Made)

Audrey's Books
The Prints & the Paper
---
UPCOMING EVENTS AND MARKET LINEUP
Follow me on instagram for latest news updates and events!